Overview
Magento is an open source eCommerce platform that has tons of options for customization and integration. Today, we're going through nine benefits of the Magento eCommerce platform, so you can see whether it's the right one for you.
Magento
is one of the number one eCommerce platforms on the internet. It's a heavy platform that takes a lot of work to get right, but it offers unparalleled power and potential for enterprise store owners who deal with high customer and sales volume.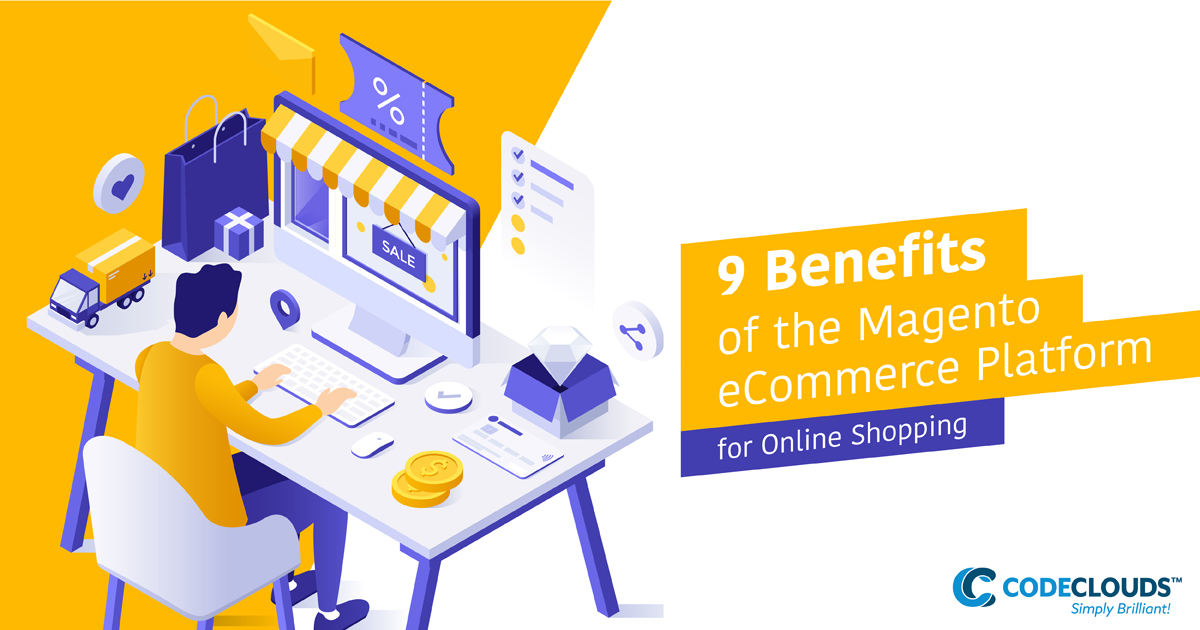 Web Design Customization
Every online business is unique in its own way. With Magento, there are tons of CSS customization options ready to use for web design, letting your developers really make your storefront one of a kind. The Magento team provides excellent design support, and have great blogs on the latest web design trends.
Mobile and SEO Friendly
Magento is known for keeping up with mobile web design standards and providing advanced SEO solutions. Mobile visitors expect to have a great experience when landing on a certain site, and if a website isn't mobile friendly it will drive them away. A website's search engine optimization score influences the number of hits a website will receive. Magento is up to date with the latest SEO ranking factors. It provides great URL structure and meta-implementation options required for SEO. Magento also includes analytics for tracking web visitors.
Faster Loading Store
Magento has made a mission to make the fastest eCommerce stores in the world. Web load speed is critically important: recent Google statistics indicate that a full 50% of users abandon a page that hasn't loaded in three seconds. Magento's heavy-duty platform allows you to keep load times down, even when you're dealing with a massive influx of customers.
Hosting Options
With Magento, a business is not obligated to stay with hosting that is bundled with the platform. Magento allows an eCommerce store to freely select any hosting company of their choice. This provides great freedom for all online shopping businesses to have their own files and be selective with different hosting companies.
Secure Order Preferences and Product Management
Magento is known for its top of the line order security and product management options including custom reporting features. With Magento, it is easy for an online store owner to view periodic transaction history, change product descriptions, add images, export reports, and add or remove items.
Multi-Website Options
Magento has the capability to host multiple websites with just 1 back-end admin. This is one of the key features that Magento is popular for. This features makes it the optimal eCommerce CMS platform for business owners operating multiple pages and storefronts.
Currency and Language Support
Most of the well-known open source eCommerce platforms have little to no options in regards to foreign currencies. Magento dynamically supports a large number of international currencies, allowing you to operate your store almost anywhere. This makes it efficient for both US stores and international stores to use Magento. Magento also supports a variety of languages.
Custom Integrations
By allowing 3rd party integrations, Magento gives an online store more options for customization. This is one of the most crucial benefits of Magento eCommerce platform that makes it an excellent choice. Magento allows every store to be customized in any way. Common 3rd party integrations include major web applications and payment gateways.
Limitless Options

Magento is up to date with the latest design trends, SEO ranking factors, online store needs, and security features. With its ability to handle a huge number of requests, Magento is the absolute best choice for a large-scale shopping platform. You've learnt about the benefits, now you need to make the most of them, read our ten practical tips for
Magento performance optimization
.