Overview
There's a lot to take into account when choosing an eCommerce platform. Part of the confusion or overwhelm of choosing the right eCommerce platform is the sheer amount of popular platforms there are to choose from, all simultaneously claiming to do the same thing, yet differently, and supposedly better! It's no wonder you're a bit confused or hesitant to lock-in a choice. 

Our advice? When researching only consider a few eCommerce platforms to compare against each other. Tackling them all at once will only bog you down, you don't need to, learning about the main players will tell you a lot about the rest and you'll be able to categorize certain eCommerce platforms by their general purpose.
In this article we'll be covering three platforms you should've already heard of: Magento, Shopify and BigCommerce. Each of these platforms claim an impressive market share and have an active community surrounding them. We will be comparing them side-by-side, hopefully making their similarities, differences and unique innovations as clear as possible. Let's get into it. 
Magento vs Shopify vs BigCommerce: General Purpose
Magento is different from Shopify and BigCommerce because it began as an open source platform. Magento is mostly used by larger businesses because more development power is needed to make the most of its potential. 
Magento does have cloud hosting and on-premise options. However, a large number of eCommerce entrepreneurs are preferring Software-as-a-Service (SaaS) platforms because they require less development, are secure and provide constant updates. 
Magento is not just Magento as well. In 2015 Magento 2 was released, and in June 2020, support for Magento 1 completely stopped. Potential wise, Magento 2 is better than Magento 1 and without a doubt Magento 2 will be the most flexible and powerful eCommerce platform to be mentioned in this article. But migrating to Magento 2 is expensive, and many businesses are currently weighing up whether they finally want to take the leap, or migrate to another platform entirely. 
On the other hand, Shopify and BigCommerce are leading SaaS eCommerce platforms. Both are known for being user friendly, feature rich and having quick setup. Shopify and BigCommerce are recommended for startups or small businesses entering eCommerce for the first time. These platforms make eCommerce accessible for non-technical business owners. 
The table below gives a general overview for key aspects of each eCommerce platform: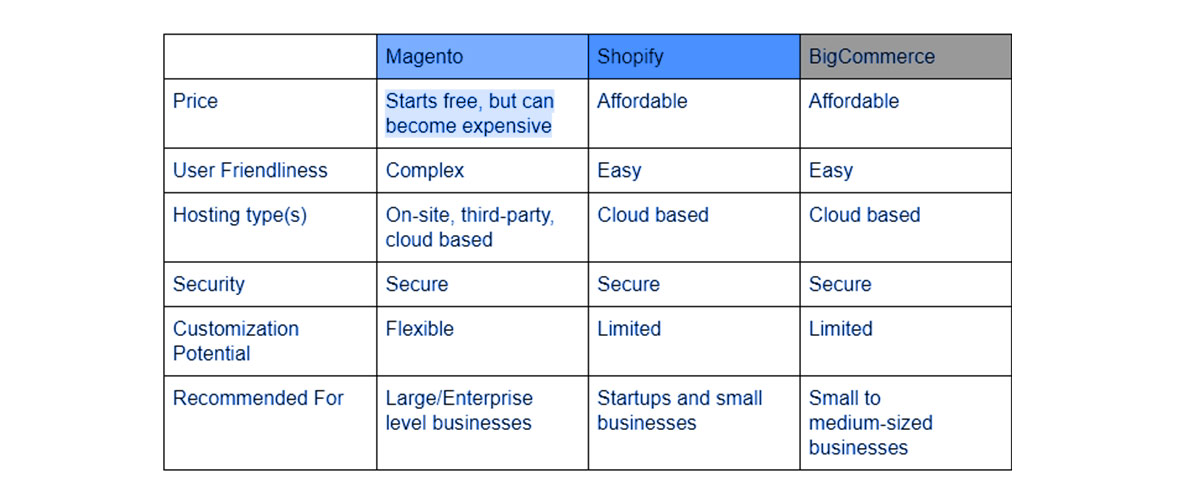 Magento vs Shopify vs BigCommerce: Pricing
Your budget itself can limit your options. If you're on a tight budget, you will already be leaning towards Shopify or BigCommerce and fittingly you're probably a smaller business. It's important to know about the pricing plans outlined by each platform. But, what's just as important is to know about the ongoing maintenance, hosting, security costs, as well as potential development costs when customizing your store. 
Magento: The cost  to license Magento software is dependent on what version you use. 
Magento Open Source: Free (technically), but, you have to cover all hosting, security, maintenance, development and design fees yourself. No support is offered. 
Magento 2 Enterprise Edition: As the name would suggest, this plan is for enterprise level businesses. Depending on the size and complexity of your business, this plan can cost anywhere between $20,000-150,000 per year.
Magento 2 Cloud Edition: This Edition is a Platform-as-a-service (PaaS) model, which essentially means that Magento takes care of more development, opposed to a SaaS model. 
Shopify: A lot more affordable compared to Magento, with a range of different pricing plans for businesses of different complexity. 
Basic Shopify Plan: Costs $29 per month, includes all basic features, 2 staff accounts available. Doesn't include advanced features such as: detailed reporting, abandoned cart recovery, advanced reporting, real-time shipping. 
Shopify: Costs $79 per month and is targeted at small businesses growing rapidly, includes all basic and advanced features, 5 staff accounts available. 
Shopify Advanced: Costs $299 per month and is targeted at medium to large sized businesses (i.e businesses whose monthly revenue exceeds $10,000). With this plan, your business gains access to even greater advanced reporting features and has very low transaction fees.
Shopify Plus: Shopify's plan for enterprises. Costs $2000 per month, has Shopify's most powerful features and site hosting. 
BigCommerce: BigCommerce's pricing plans are similar to Shopify, they also have four plans suited for different sized businesses, each plan including better features and cost-effective transaction fees. Their plans are called the following: 
BigCommerce Standard: Costs $29.95 per month, is targeted at small businesses
BigCommerce Plus: Costs $79.95 per month, is target at medium sized businesses
BigCommerce Pro: Costs $299.95 per month, is targeted at large businesses
BigCommerce Enterprise: Costs at least $400 per month (likely to be much more), targeted at enterprise level businesses
One notable difference between Shopify and BigCommerce pricing: Unlike Shopify, BigCommerce sets a revenue threshold on pricing plans. To explain, BigCommerce Standard users can have a maximum annual revenue of $50,000, once they exceed this amount they are immediately upgraded to BigCommerce Plus. While with Shopify, you have the freedom to upgrade when you think it best suits. 
Magento vs Shopify vs BigCommerce: User Friendliness
How easy is the platform to use? It's an important consideration that isn't respected enough. If you find yourself thinking "I'll understand how to work this eventually…" the platform probably isn't user friendly enough. It's not just about you as well, will your team be able to use the platform? Sure, in-house developers will probably be able to gauge more complex platforms, but what about your sales and marketing team? 
Magento: Complex and makes no apologies for being so. Magento does not come with on-site developers to assist you in site building. Magento comes with the expectation that you either are a Magento expert yourself or you will be hiring a Magento developer or development team to develop your site and integrate your tech stack. 
Magento is flexible, which can make less technical users feel overwhelmed. Even when setup, the learning curve is still steep. The thought process is this, if you can get your head around Magento, the possibilities are limitless.
Shopify: Again, Shopify was made for the business owner that wants to keep things simple. Shopify is super friendly, building a site simply requires scrolling, clicking, dragging and dropping. To gain more advanced features, you will need to install a relevant app or employ a Shopify developer. 
BigCommerce: Also is very user friendly, first time business owners will find setting up a store, adding and managing products a breeze. BigCommerce has the possibility for headless commerce and has many plugins for those who may prefer to use other CMS solutions such as WordPress or Drupal. 
Magento vs Shopify vs BigCommerce: Hosting Type(s)
Hosting is another decision, not only for the running of your store but also for data security, how much you'd like to spend and how easy you'd like to scale. New business owners are highly likely to choose the flexibility and affordability of cloud hosting, while well established businesses may feel greater peace of mind with on-premise hosting or greater functionality with third-party hosting. 
Magento: Offers all hosting options, third-party, on-premise and cloud hosting is possible. The hosting you choose is dependent on how you would like to use the platform. Therefore, you will likely have to find your hosting provider yourself (if not on-premise). 
Shopify: Easy, all Shopify subscriptions have cloud-based hosting included.
BigCommerce: Easy, all BigCommerce subscriptions have cloud-based hosting included. 
Magento vs Shopify vs BigCommerce: Security
We only ever hear about security breaches of global enterprise level businesses. Business size is irrelevant, all eCommerce sites are vulnerable to hackers and cyber security should always be a top priority. However, security is complex and can take a lot of time to handle yourself. The eCommerce platform you choose will likely be a reflection of how much of your cyber security you're willing or able to take care of yourself. 
Magento: As secure as your development team makes it. Choosing Magento means you will have to set up most things, even basics such as SSL certification and password authentication. You will have to make sure your store is meeting current PCI compliance and GDPR regulations and update accordingly. If there is a security issue spreading across Magento stores, Magento will patch it.
Shopify and BigCommerce: Most security issues to do with Shopify or BigCommerce are actually to do with a merchant making a mistake such as loading an insecure script or clicking on a phishing link. Both platforms are compliant with all six PCI categories, have DDOS protection and include SSL security on all subscriptions. 
Which Platform Should You Pick? Discussing Customization
If there's one thing you should have realised by now, you cannot just pick any eCommerce platform, in saying that each platform does have a version or subscription that can provide what you need to some extent. 
The recurring theme so far has been that Magento is complex and heavy, while Shopify and BigCommerce are simple and light. The main reason Magento can seem really daunting is because you're faced with many technical challenges early on. While, lighter platforms such as Shopify are easy at the start, and technical challenges will reveal themselves later (upon business growth). It's about choosing the platform that is both best for you right now and will guarantee you the most continual growth in the future. 
Choose Magento If: You're a large or enterprise level business with money to spend on maintenance and development work. Magento is rich with customization opportunities and if you're not able to take advantage of them, you're wasting money rather than investing it. Top Magento stores are highly secure, provide unbeatable user experiences and will be the eCommerce site you always dreamt of. 
Choose Shopify If: You're new to eCommerce, are planning on creating a small business and just wanting to get up and running. With Shopify your business can be up and running by tomorrow. Shopify allows less techy business owners to completely focus on their business rather than security, maintenance or anything else that would give you a headache. Upon business growth, simply upgrade to the next subscription. The downside of Shopify is that you will be limited with how much customization you can achieve. To implement advanced features you will have to employ a Shopify developer. 
Choose BigCommerce If: You're in between—either you're a small to medium sized business with the intention of growing, or you're a large business and want to stay that way. BigCommerce is similar to Shopify in terms of how user friendly it is, but does have some better options for platform integration and is more flexible with APIs and webhooks. It has more customization potential compared to Shopify, but not as much as Magento. BigCommerce is for the business that wants to be "Big," but not massive. 
Choosing your ideal eCommerce platform choice isn't a decision to take lightly. Don't let yourself become so intimidated by Magento that you don't consider its possibilities. At the same time, you shouldn't let yourself get so dragged in by the ease of Shopify or BigCommerce that you forget to look beyond.
Magento, Shopify and BigCommerce provide a lot of value to many businesses and have large market shares for a reason. If you'd like to  maximize your experience with any of the discussed platforms, you can
hire eCommerce developers
from us today!

No matter the platform you choose, it's worth reading our guides to
effective eCommerce optimization
and
6 ways to reduce eCommerce bounce rates
in 2021.