Overview
There's a lot of competition for landing page conversions, so it's critical to have well-designed landing pages that attract and convert visitors. We'll let you in on few tips—from having a great CTA to minimalist navigation—for creating a high-converting landing page for your eCommerce business.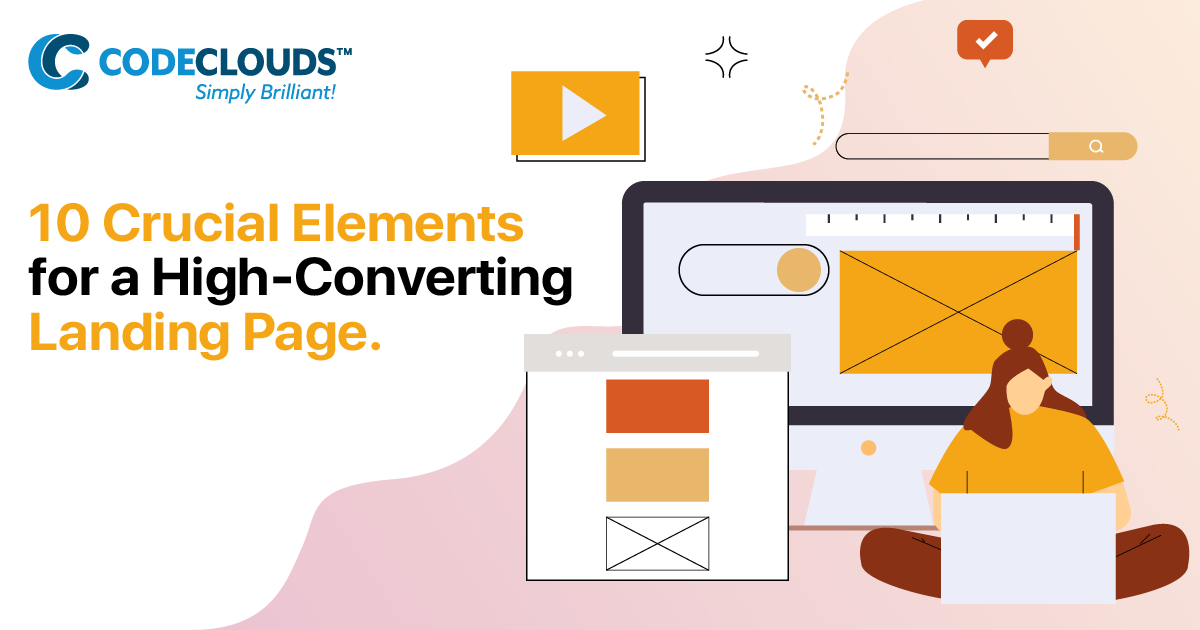 Why You Should Use a Landing Page
Landing pages are pages specifically designed for a single-goal conversion. Reached either by PPC ads or through search engine results for relevant keywords, landing pages can drive sales, advertise a product, or collect leads. But why is it so important to have specific landing pages?
Targeted: Landing pages are targeted towards conversion and only conversion, so they should be able to convert more visitors than your website. 
Fewer distractions: Landing pages don't need all on the info of your website, so that can be focused on conversion. Using landing pages for conversion also means you can fit comparatively more information on your website, as you have the landing pages to focus on conversion. 
Top 10 Elements To Include on Your Landing Page
There are some elements that your landing page simply must have. Here are the 10 that we think are the most important: 
Minimalist Design
The landing page design has to be minimalist because clutter will distract your customers from converting. This means that you should try to limit the different elements of your landing pages to the bare essentials (e.g., picture, CTA, form, heading, subheading, and explanatory copy) and not include unnecessary elements. 
Minimal Navigation 
A sub-set of minimalist design for landing pages is minimizing navigation. Links off your landing page take visitors away from your page and prevent your landing page from converting. So, it's super important not to have much navigation from your landing page (though a link to your homepage is good for UX).
Good Headings
Your heading is the first thing (or one of the first) that customers see on your landing page. It has to be catchy and relevant to your business, i.e., great copy. While it's great to try and get some SEO value into your heading, this isn't the goal of a landing page. 
Show Your Product's Value
You need to know what you are offering with your landing page. This is where your Value Proposition comes in. What are you offering that your competitors aren't? How does it benefit your customers? Your explanatory copy and subheadings should clearly delineate why your visitors should convert. 
Note that your value proposition might not necessarily be your product itself; it could be a lead magnet, a free version of your product, or an asset like a white paper or a webinar. 
Benefits and Pain Points
Part of your Value Proposition is showing how your product benefits your customers. Do this by framing your copy in terms of pain points that drive people to your product and the benefits of using your product that relieves these pain points.
First, emphasize the issues that sent customers to your landing page in the first place. Then, highlight how your product can help fix the customers' pain points by listing features as benefits. You can even mention how the customers would miss out by not trying out your product.
CTA
The CTA (Call To Action) is essential to any landing page, and this is a button that visitors can click to convert. Here are a few tips for CTAs: 
The CTA button should be placed in a prominent location and be specific, not generic (e.g., "access our webinar," not "click here"). 
It may be beneficial to place other buttons distributed across the page that jump the user to the main CTA section for easier navigation. 
Due to psychological associations of colors, red and green are the best colors for CTAs(as long as they fit in with your brand colors).
Simple Forms
Like everything else on your landing page, forms should be simple. A form is a must-have if your landing page is for lead generation, but it has to be as short as possible with no unnecessary fields. However, the greater your value proposition, the more complicated the form can be.
Hero Image  
A hero image, a photo or graphic relevant to your business, is essential to your landing page. This image should be high quality (though not so large it affects your page loading) and not a stock image. Alternatively, if you have the perfect video, you can use this in place of your key image. 
Contact Details
Your landing page should contain ways for customers to reach your business. This means that you should always put some contact information on landing pages. Many landing pages have a form for lead generation that customers can use to contact you. Still, live chat is becoming increasingly popular as this
alternative messaging tool
is perfect for instantly relieving customer pain points. Remember also to include links to your social media pages. 
Social Proof 
Social proof is important for building trust, and customers are more likely to trust other customers than companies. While even just listing how many people have bought your product is good, the best form of social proof is detailed customer testimonials from real customers. 
+ Bonus: Search Engine Optimization
SEO factors are as important for landing pages as anything else. Especially if you are getting visitors to your landing page via targeted keywords, it's important to choose and use the right keywords for your landing page if you want to attract potential customers.

Creating the best landing pages is your path to eCommerce success. By including the right elements in your pages, your business can stand out with landing pages that regularly generate conversions and leads. 
Need help designing your landing page? Get
UI/UX development
help from CodeClouds. Our professionals can help you design the optimal landing page for your business, and we have developers for any integrations and conversion tracking you may need on this lander as well.